Hot Bamboo MassageBack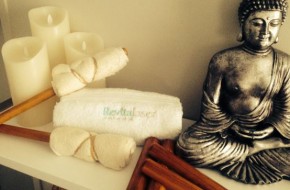 Hot Bamboo Massage.
In this day and age we all feel the stress and strains of day to day life, the body's natural reaction to stress, be it physical, mental or emotional, is to tense up and get ready for "fight or flight." Chronic tension causes muscles to knot up. A dull ache can eventually lead to pain as muscles become less flexible and more prone to injury.
At Revitalaser we use a technique called hot bamboo massage, this is for anyone wanting a relaxing and luxurious spa massage or for anyone who needs some serious deep-tissue bodywork for overworked and injured muscles. Throughout the massage, the therapist uses several different warmed pieces of compressed bamboo to work the tension out of each muscle. Long fluid strokes in different styles like Swedish, deep tissue, lymphatic drainage, or neuromuscular therapy are used to stretch and compress the muscle and tissue.
This treatment especially works well for runners and cyclists experiencing tightness in their legs, feet and IT band. It is also of great benefit to anyone suffering from shortened muscles due to postural imbalances.
The benefits.
Increases circulation
Flushes body of metabolic wastes (i.e., lactic acid) for faster healing time and detoxification
Decreases muscle spasms
Breaks up tissue adhesions
Releases endorphins to promote relaxation and pain reduction