JOIN THE PAIN-FREE LASER HAIR REMOVAL REVOLUTIONBack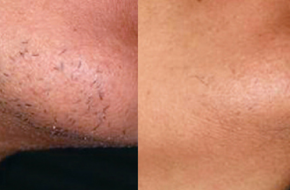 Revitalaser has the very latest Soprano medical laser technology for face and body hair removal that is virtually painless. Free yourself from the drudgery of shaving, painful plucking and expensive waxing and join our growing list of happy clients with silky smooth and beautifully bare skin.
And the great news is that this cutting-edge medical laser treatment works on all skin types! Our next-generation pain free laser hair removal treatment offers comfort and convenience, and offers you a permanent hair reduction solution that is simple and easy.
Picture caption : Client's chin area. Left- month 1 - right after 6 months' sessions)
Our patented IN-Motion technique even treats sensitive areas without the discomfort of other systems. Hair removal without the pain gently heats targeted hair follicles with gentle pulses of laser energy, while you stay comfortable. Nearly any part of the body can be treated safely and comfortably, including the face, neck, legs, arms, bikini line, back and stomach. The surface of the skin is cooled during the treatment which dramatically reduces the risk of any complications.
By using a sweeping, paintbrush technique, our procedure is shorter, more comfortable and gives great results. Because the laser is constantly in motion, many patients say that our treatment feels similar to a hot stone massage, and the sweeping motion means your treatment area can be wider, which makes sessions go more quickly.
Hair follicles cannot regrow after treatment but there will inevitably be a few that manage to escape the laser. Although results will vary between individuals, the average person will see a huge reduction in hair growth after just three laser hair removal treatments. Depending on which area is being treated, most patients will then require one or two maintenance treatments per year.