Laser VS Waxing Back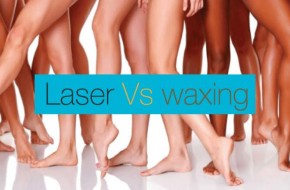 LASER V WAXING – THE PROS AND CONS
---
Having body hair is a personal choice, If you do decide to remove it, various hair removal techniques on the market now mean that any part of the body can be hair-free. But- how do you know which is the best option for you? Waxing is of course the most traditional method of hair removal but emerging technology has also brought us the option of Laser hair removal which is a permanent reduction to hair growth.
We're going to take an in-depth look at the benefits of each treatment and give our considered opinion.
How do both methods work?
The waxing method involves applying warm wax onto a hairy area of skin, then smoothing a wax strip on top of that area. The warm wax bonds to the hair so that when the strip is pulled away quickly, the hair is also pulled away with it. OUCH!
Laser is a breakthrough hair removal technology using a diode laser based on a wavelength, allowing for even better energy absorption by the melanin chromophore. The powerful absorption. Combined with the contact cooling, treatment coverage, comfort and low maintenance of the diode laser provides an ideal solution for the widest range of hair types and colour.
Laser treatment means you can be hair free for longer. Waxing offers a clean removal of hair which lasts for between 3 to 6 weeks. The hair then grows back exactly as thick as it was before you had it waxed. Hair regrowth starts just one week after waxing.
Laser treatment produces a long-term reduction of hair growth. After 3 to 4 sessions of Laser hair removal, hair growth slows down, and when it does return it is thinner and patchier than before. Each session reduces hair growth by 10 to 15 per cent
this can depend on your hair and skin colour. Results can be seen within two weeks of the first treatment, and lasting results within 6 to 12 sessions.
Timing is everything!
There may well be occasions when waxing might be a better option. If, for example, you had an important appointment or even a hot date, you might choose waxing over Laser. Laser hair removal is a treatment which becomes more effective over time so you would not have an initial Laser session just beforehand as growth can still come through for the first 10/14 days, as the hair is at the shedding process so therefore the hair that is at the active stage of the cycle will fall out and be permanently removed. Waxing, on the other hand will give you a clean look right when you need it but this has to be repeated regally.
Laser saves you money in the long run.
Once you start your course of Laser hair removal you no longer need to spend your money on regular, expensive wax treatments, depilatory creams, razors or other methods of hair removal. Even if you do your own waxing at home you still have to keep buying the equipment.
You have to consider whether you want short term – and short-lived gain, as opposed to long-term gain leading to permanent or semi-permanent hair loss. Laser hair removal may cost more up front, but over the course of your treatment you will save a huge amount.
Time is money too! Laser treatment saves you the constant trips out to have your waxing done, not forgetting to factor in petrol and parking costs.
Less pain – more gain! Waxing can be very painful because you can feel the hair being ripped out of your skin by the roots. Laser treatment is much gentler. You will feel tiny zaps of heat but Laser machines have a cooling agent built in, which cools the area of skin being treated before the Laser beam hits it.
Everyone can have Laser treatment. There is no skin colour, tone or type on which Laser will not work. It is more about the colour of the hair, rather than the texture or complexion of the skin. In most cases the darker the hair the whiter the skin the quicker the results are shown.
The verdict? Laser hair removal is an amazing option for hair removal. It's more cost-effective, less painful and gentle on the skin.
No ingrown hairs. Unlike waxing, threading and epilating, you will not have to put up with unsightly and painful ingrown hairs. Laser hair removal can even improve ingrown hairs and avoiding cysts.
Many women who suffer from Polycystic Ovary syndrome experience an increase in facial hair and turn to Laser hair removal as an effective solution.
Using Laser hair removal on the underarms is also perfectly safe. It may be rather more sensitive to treat because the skin is thinner and more delicate in that area.
Better for your skin. With Laser hair removal you won't have to contend with razor nicks and cuts, wax burns, red lumps or skin irritation. People with sensitive skin often find that waxing produces irritation which can last a few days or even a week. If you stick with waxing you need at least half an inch of growth prior to treatment. If the hair is too long, it can be very painful; too short and it can break off and not get pulled from the root.
No waiting for your hair to grow. To use waxing and similar hair removal methods you need to wait to have long enough hair to make the session worthwhile. This means you will spend up to a week before your waxing session with fuzzy hair growth. Not so with Laser hair removal. You don't need surface hair for a treatment and indeed you are encouraged to shave between sessions so you get the benefit of always looking smooth as well as the cumulative benefits of the Laser hair removal.
Laser hair removal has very few downsides. One requirement is no tanning before or after treatment – either a natural or fake tan.
Final verdict? We believe Laser Hair removal is the best solution for the majority for face & body hair removal requirements.
At Revitalaser we offer attractive package courses including payment plans you can have laser as little as £10 a week, which go easy on the purse as well as giving you a noticeable reduction in hair afterwards.
Even after you complete the course's you may only need a maintenance - 'less on the body more on the face' this is because it is an more hormonal area.
Our policy at Revitalaser is to offer a patch test 24hrs prior to treatment and to fill a full medical questioner.