Tropic Skincare Back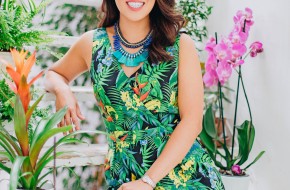 TROPIC SKINCARE ENTREPRENEUR ACCOLADE
---
Susie Ma founded Tropic Skincare when she was only 15 to help her mum pay the bills and buy a better house. 14 years later Tropic is now one of the fastest-growing
companies in the UK and Susie, now aged 29, has won a place on the coveted 'Forbes 30 under 30 Europe' list, which features Europe's top young leaders, creative inventors and entrepreneurs under the age of 30.
Susie was born in Shanghai, China in 1988, where she lived with her grandparents. From an early age she was strongly encouraged to use only natural ingredients by her grandmother, who for over 60 years studied homeopathic remedies alongside her career as a medicinal chemist. In their house natural was always better, and it was this upbringing that inspired Susie's belief in natural ingredients and eventually Tropic Skincare's ethos.
When Susie was 6 the family moved to Australia and settled in tropical Queensland. The Tropic Skincare range grew from Susie's love of natural products using plants and botanical ingredients which grew near her home. She lived in Cairns and the area was full of lush, tropical plants that Susie and her mum would grow in their garden and use to make natural skincare recipes. With plants like eucalyptus and aloe vera plentiful, Susie fell in love with the natural environment around her, and being so close to the Great Barrier Reef developed a particular passion for protecting the ocean.
She took part in BBCs 'The Apprentice' in 2011 and her passion for natural, cruelty-free products so impressed Sir Alan Sugar that he invested to become a 50/50 partner in her business. Their mission was to empower people all over the country, and provide them with the means to start their very own beauty business with Tropic.
Tropic's ethos is all about caring for animals and their welfare, thus creating a cruelty free range. They have created a range free from toxins and other harmful chemicals, and also believe that whatever is put on the skin 'should never be a mystery'.
It is a fact that 25% of the chemicals in our everyday makeup is absorbed by the skin and directly into the bloodstream, which is why the Tropic range is so beneficial because it uses all organic products which have minimal harmful effects on the skin. All of their products are 100% natural, cruelty free, vegan and free from any nasties like sulphates, and microbeads.
Tropic Skin care never use paraffin, petrolatum, petro-chemicals, parabens or any other synthetic ingredients that not only have no nutritional benefit for your skin, but have also shown to have a long term damaging impact on your skin and health.
Not many people realise that the average person puts almost 100 chemicals on themselves every day before they even leave home. It's amazing that the average amount of chemicals in every household is about 250. The Tropic products are not only cleaner than the ones in the supermarkets but also cheaper than what you will find on the high street or supermarket.
The clear messages from Tropic Skincare about their products include:
* Simple – There are no bells and whistles, just good, pure, honest products, delivered to you with love.
* Quality – Products are handmade in small batches to ensure freshness when they reach you.
* Service – To ensure that the highest standards of customer service are maintained at all times.
* Information – All ingredients are in plain English so you don't need a chemistry degree to understand exactly what you put onto your skin.
* Innovation – Researching, testing and developing to ensure that our formulas contain the best and latest skin care innovations.
* Animal Testing – They only on themselves.
* Animal Products – Vegan Society Approved.
* Genetic Engineering – None of the products contain genetically engineered or modified organisms.
* Environment – They care about our environment and try to reduce their carbon footprint where ever they can, and aim to be as green as possible in terms of our packaging, waste disposal, and also use sustainable ingredients in their products.
Too make a purchase click on the link below.
The Tropic skincare range includes skincare, body care and make up, and is both effective and affordable. You can order all Tropic Skincare products from Revitalaser.