LA FaceliftBack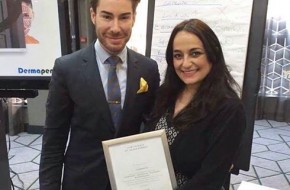 Wirrals first for groundbreaking beauty treatment
Heswall-based Medical Skin Spa Revitalaser are the first salon in the North West of England to introduce a revolutionary beauty technique direct from Los Angeles.
The LA Facelift is an innovative, minimally invasive technique developed by Dr Wyatt To of The Cosmetic and Skin Surgery Centre, using the patented DermaPen micro needling technique to infuse collagen into the deeper layers of the skin. This provides many of the same benefits as a traditional facelift, aimed to tighten, lift and rejuvenate the skin, without the associated downtime or recovery period.
DermaPen promotes scar-less healing and natural collagen reproduction, similar to fractional laser treatments, IPL, laser resurfacing and chemical peels, but without the side effects and downtime. It can effectively treat hard-to-reach places including around the eyes, nose and lips.
DermaPen is ideal for treating fine lines and wrinkles, stretchmarks, pigmentation, acne, acne scars and surgical or trauma scars using a cocktail of antioxidants and hyaluronic acids.