Strawberry lift Back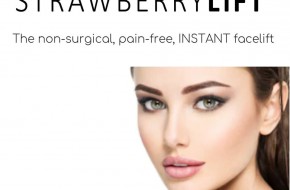 INCREDIBLE NON-SURGICAL JAWLINE LIFT
---
StrawberryLift by Laserlipo is the brilliant new, non-invasive solution to contouring the notoriously stubborn lower facial area, targeting the chin, neck, double chin, facial jowls and cheeks.
Strawberry Lift is the world's first laser treatment specifically patented to work on improving the contours of the face and neck. This groundbreaking aesthetic treatment provides the results of a lower facelift and necklift without the surgery.
A-listers and celebs on both sides of the 'Pond' are raving about this new treatment which lifts and tones that sagging jawline. They know that someone with a stronger chin is seen as a stronger, smarter, go-getting sort of person!
Losing your crisp jawline is something which almost happens without you noticing because it happens gradually as you get older. However, one day you look in the mirror and it's there. Look at a photo of yourself from 10 years ago as compared to the face you see in the mirror and you may notice more pronounced folds from your nose to your lip. These are called 'nasolabial' folds which become more apparent as we lose fat in our faces and volume in our cheeks as we age. Our facial skin begins to empty just like a balloon, slowly deflating. Gravity takes over, you see more wrinkles and a drooping jawline, and everything starts to slide downwards!
Now you have the chance to bring back that chiselled profile with our StrawberryLift. It's one of those treatments you may never think of having until you see the incredible results it produces.
It's so quick, easy and simple, with no pain or discomfort. Accurate measurements are taken before you start, then a laser light is applied to penetrate the skin, selectively targeting fat cells underneath and shrinking them with immediate effect. It feels warm but not unpleasant.
The next stage involves an ultrasound that is used from below the cheek bones to the lower neck. The focused 'Silent Ultrasound' gives a wound-healing response, resulting in the formation of new collagen, which tightens the skin and lifts the area being treated.
Amazing results can be seen straight away with just one 12 minute treatment. The whole experience is so relaxing, with absolutely no downtime. After the course of treatments, the superb results will last for approximately 18 months – longer than Botox or most Fillers.
Strawberry Lift is great for men too. For men with too much fat on their face, it will help to bring out that handsome stud that was always there! The facial features that women find attractive and that men find intimidating; a chiselled jawline and defined cheek bones for example, can only be seen when a man's face is lean. Let's face it,
fat is unattractive and it hides the masculine characteristics that make a man handsome, but if your face isn't lean, you may never know what handsome features you have.
So if you have noticed that your jawline has lost its definition and is not as shapely and tight as it once was, your cheeks and chin have lost volume, and you can see skin hanging down under your chin in the form of jowls, StrawberryLift is the perfect solution to give you back your youthful, firmer contours and a supermodel jawline.
What to expect
At your initial consultation you will need to complete a medical questionnaire and consent form to ensure you have no contraindications to the procedure.
You will then have three photographs taken ; before you commence your course, after the laser, and finally after the Silent Ultrasound. This will be repeated for every treatment, showing you the brilliant cumulative results, and giving your accurate before and after images at your final treatment.
How it works
The clinically proven, non-invasive laser treatment penetrates the skin to target selectively the fat cells underneath - leaving blood vessels, nerves and other tissue undisturbed. The fat cells absorb the energy from the lasers and this causes the cells to spill out their contents of water, Glycerol and free fatty acids. This is followed by Silent Ultrasound which is a highly focused acoustic energy which creates a wound healing response - resulting in the formation of new collagen, to lift and tighten the skin in just one single session.
The penetration is between 2 and 5 mm and the controlled thermal effect results in the destruction of targeted fat, as well as contraction of collagen in the treatment area. Benefits are faster treatment times and a more targeted focus to lift and tighten the skin instantly.
Great results!
The difference between the before and after photos will astound you, and all the more so when you compare Strawberry to alternative methods such as surgery, botox or dermal fillers. In less than 30 minutes, this inexpensive office treatment requires no preparation or aftercare and is 100% non-invasive, 100% non-painful, and extremely effective. It's definitely a no-brainer!